About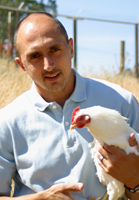 Jack Norris is a Registered Dietitian and President and co-founder of Vegan Outreach. Vegan Outreach produces Why Vegan and other booklets and their Adopt a College program hands booklets to over 750,000 students every semester. In 2005, Jack was elected to the Animal Rights Hall of Fame.
Along with Ginny Messina, MS RD, Jack has written the book Vegan For Life: Everything You Need to Know to Be Healthy and Fit on a Plant-Based Diet
.
Jack writes a nutrition blog at JackNorrisRD.com. He is the author of Vitamin B12: Are You Getting It? and maintains VeganHealth.org. Jack earned a degree in Nutrition and Dietetics from Life University (Marietta, GA) in 2000 and finished his dietetic internship at Georgia State University in 2001.
On-line videos of Jack's talks:
A History of Vegan Outreach and Our Influences
Jack currently lives in Davis, CA with his wife, Alex Bury.